Commercial Signage & Lettering
Need your work truck lettered or need logos for your business interior or exterior? We can work with you and design professional images and logos for your business. We have a unique way of designing clean easy-to-read graphics that draw attention and add a touch of class to your workplace. We install graphics in the Worcester, MA area and can ship ready to install graphics with the correctly supplied dimensions and specifications.
Call or email us today for a free quote.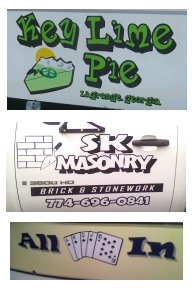 Just a few samples of some recent jobs. See our Photo Gallery for More Ideas.
Please contact us directly for any
questions on any of our products
or services.