CCustom Boat Transom & Hull Names
Why name your boat? The question should be why not name your boat? It's been thought to bring good luck for thousands of years... Besides, it's fun coming up with a unique personalized transom name for your vessel that will set it apart at the lake or the marina.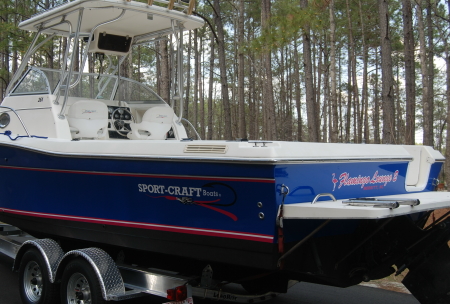 Custom Transom name and Custom Reproduction Hull Logos to Match Pinstriping
We strive to make the lettering an integral part of the boat's existing colors and graphic scheme.
Whenever possible we try to "blend" the graphics in so that it looks like it shipped from the manufacturer with the name on it! However, if you want hot pink & purple on a red and blue boat then we'll be happy to oblige.
We can come up with an original design with artwork or just a classic styled font if that's all you want.

NEW ! PRE-MADE BOAT & TRUCK NAMES
Can't come up with your own name? These pre-designed names can be done in custom sizes and color combinations. They also look great on your car or truck's tinted glass in white, grey or other light colors! Shown in B&W but please inquire about colorization options. We also have thousands of other graphics on file and various pieces can be combined from multiple names.

Please specify desired graphic number, available height and width, and desired color combination(s) for proof and price quote.



1. Abandoned Ship

2. After Burner

3. Anchors Away

4. Aquaholic

5. Bait 4 me

6. Baitmaster

7. Bass Ackwards

8. Bay Dreamin'

9. Beach Buoy

10. The Beer Hunter

11. Beeracuda

12. Bite Me!

13. Boatweiser

14. Bon Voyage

15. Breakin Wind

16. The Buccaneer

17. Bug Lover

18. Caped Cod

19. The Chummer

20. The Cisco Squid

21. Cupid's Quest


22. Da Bomb

23. Dances With Waves

24. Dixie

25. Don't Sink & Dive

26. Dream Boat

27. Easy Rider

28. Enigma

29. Extreme Force

30. Fish and Chicks

31. Fish in Boat

32. Fished In!

33. Fishful Thinking

34. Fishin Impossible

35. Flame Thrower

36. Four Winds

37. Frequent Flyer

38. Full Auto

39. Got Crabs

40. Got Wind

41. Grave Digger

42. Greased Lightning

43. Great White North

44. Heaven Sent

45. Hell Raiser

46. Herring Problem

47. High Octane

48. High Road

49. High Roller

50. High Tide

51. Highway Man

52. Holy Mackerel

53. Keepin It Real

54. Kickin Halibut

55. King of The Road

56. Lady Bug

57. Land Loather

58. Legendary

59. Limited Edition
'
60. Little Boat Blue

61. Lone Wolf

62. Loon A Sea

63. Lost and Flounder

64. Low Rider

65. Lucky 7

66. Lucky Lady

67. Maine Event

68. Malibu

69. Minnow Me

70. Mussel Bound

71. Nasty Buoy

72. Naughtycool

73. No Anchovys

74. Nucking Futs

75. Old School

76. Over Drive

77. Red Flag Runner

78. Road Runner

79. Salty Dog

80. Sand Tiger

81. Sea Horsin Around

82. Sea Monkey

83. Sea U Later

84. Sea Wolf

85. Semper Fidelis

86. Shrimp Skimpy

87. Speed Demon

88. Sunny & Shore

89. Trout and About

90. Up Your Anchor

91. Vintage

92. Vitamin Sea

93. Wet Dream

94. Witchy Woman
Please specify item number and email or call 888-887-4587 for more information, customization options and pricing.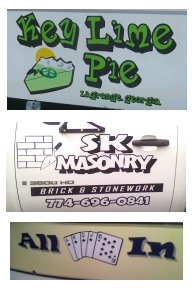 Just a few samples of some recent jobs. See our Photo Gallery for More Ideas.
Please contact us directly for any
questions on any of our products
or services.